While in Las Vegas for the AVN/ANE I had a great time checking out the new and upcoming products. I saw this one and had to have it. It's clever, impossible to forget, you can use it alone or with friends and it is great for both men and women. What else could you want?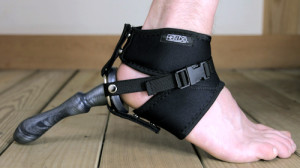 It is the first strap on harness for both gay and straight men. Here are some suggestions of how men can use Heeldo:
- Anal & prostate stimulation for intense male orgasms
- Solo masturbation while self-pegging
- Gay or straight couple play
- Men with a foot fetish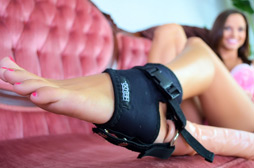 Foot Fetish? If you like to watch, have your partner strap-on Heeldo while laying, kneeling, bouncing, or squating on their favorite dildo or butt plug. Now go do it, with your foot!
USE HEELDO IN REAR HEEL POSITION:
Slip the Heeldo foot harness on your foot like a sock
Slide your favorite flared base dildo through the o-ring in the 'rear heel posiition' over the back of your heel
Insert the dildo into your cooch or ass
USE HEELDO IN THE BOTTOM HEEL POSITION:
Slide your favorite flared base dildo through the o-ring in the 'bottom heel posiition' – this puts the dildo on the bottom of your foot, rather than the heel
Lay on your back and insert your partner's ass while they are doggystyle or spread eagle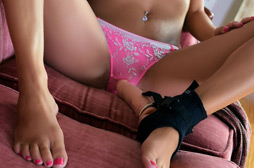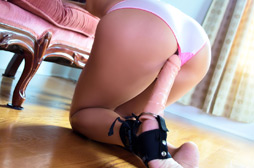 WAIT! A BONUS! I consulted with a well known fitness specialist on the Heeldo. Call me crazy but I saw it not just as a "hands free" toy. After testing the product and evaluating the volunteers we discovered that not only is the Heeldo good for your sex life but it is also great for your body! For me, being a multi-tasker, this makes it a must buy! He found that it worked the quads, hamstrings, glutes, abductors, adductors and calf muscles. Ummm… SOLD!