Ovipositors… Can you say it really fast five times?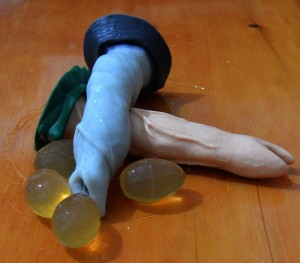 Have you ever had a dream where you are involved with an alien? Did the idea of being impregnated get you excited? Well guess what? You don't have to dream anymore. Now, Ripley will not be the only one who can carry the queen's eggs. I want to introduce you to the Ovipositor. One is named Splorch. It is made of soft platinum silicone and will help both men and women experience the fantasy. You can bring that dream to life. Splorch is 10.5″ tall, with a shaft length is 9.5″ and 2″ in diameter (this does not include your eggs). EGGS you ask? I'm going to shove eggs inside of me? No! You got it wrong. I mean they aren't real eggs. That would just be silly. These are eggs that you make yourself out of gelatin. Now you are thinking, where can I get a mold for an egg? Well don't you worry about it because one is included with your purchase.
Splorch has a friend names Krubera. He is 12″ tall, his shaft is 11″ and the diameter 1.9″ (again without your eggs). Krubera can do the exact same thing only he's bigger. Both are phallic shaped dildos that are hollow. Still having a difficult time visualizing? On one end there is a funnel shaped hole (bottom). That is where you put the eggs in. You put them in one by one, pushing them up the tube and out the top.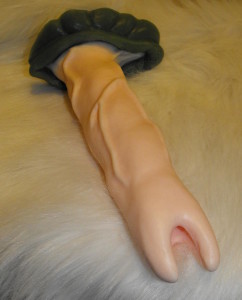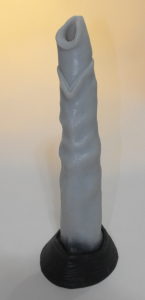 "So is this  just for women?" Absolutely not! You can put it anywhere you want. Gelatin, when warmed up by your body heat, dissolves, so there will be no changing diapers or how will I pay for college? concerns.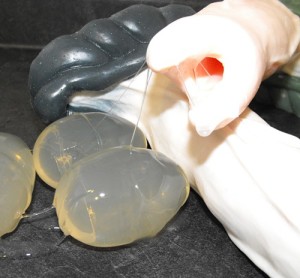 I know now you are thinking this is to good to be true. It's really not. There is a downfall. These sell at only one place and are $100+ to buy. Not totally ideal but reasonable I guess.
Just take a peak at www.primalhardwere.com
Everything is silicone so avoid buying it as a gift until you know if they are allergic or not. There are other items for sale on the site. They sell wearables, harnesses and dicks and more. There are many options. They even have a toy shaped like a chicken. His name is Pecker. Another named Pedro. He looks just like a San Pedro cactus.
This site is so fun!
The dildos are all fashioned to look like animals and have fun names. What is your favorite? Clyde? Growler? Fluffer? or can't decide. You get to also pick what color you want. You can choose any color, even glow or metallic. You can have it match the decor of your house, perhaps use it as a vase during down time. There really are many options.
Overwhelmed? I'm sure just a bit but don't worry. You will figure it out. Just don't put all your eggs in one basket!