BIRTHDAY CELEBRATIONS!!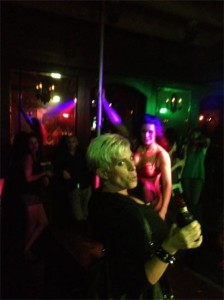 It's Friday night and I am sitting here daydreaming about living in my Barbie House. My kids, pets and my days of the week. Why am I calling it the Barbie House? Probably because when I was young I desperately wanted one. We couldn't afford it so I would pack all of my things and drag them over to my cousin's for a sleepover.. she had the Barbie House! That house was bright and optimistic and let's be honest here… that bitch had it going on. She had an RV, sports car, pool, ski slope, amazing wardrobe and minimal competition for men. In addition, she never gained weight. Yep.. had it going on.
Now I snap back into reality. I look around. It really isn't so bad and my shoes are so much better than hers. She couldn't walk in them either. They were always falling off. I am CERTAIN she never celebrated her birthdays the way I do! Like everything else in my life..never a dull moment. This year was no different.
Surrounded by Gorgeous Men
I was thrilled when I found out one of my favorite people in the whole world changed his plans for Vegas so that we could party on Friday night. That, to me, is sacrifice! I know not to worry about my nights out with him because it is always filled with surprises. I was introduced to some gorgeous friends who sang Happy Birthday to me with gusto. The restaurant was the bomb! Why? Umm..Hello! Magic Mike was playing on the televisions. Nothing better than being surrounded by gorgeous men, amazing food and hot strippers on a tv screen. Yummm!
Slippery Looking Men
It was time to hit the next place. We were off. Where to this time? Oh yay! It was a place I had heard a lot about but never experienced. What a great place! Great music, dancing (of course!), hot bartenders (even straight ones) and dancers! Slippery looking men dancing all around (although I need to point out I do not think the undergarments they are given to wear are even remotely flattering to their "package". A shame..really). These guys were climbing poles, hanging from the rafters, working up major sweats. However! I must add, I wasn't a huge fan of the socks pulled up to the knee look . It just didn't look right with the briefs. After being dared, I pointed this out to a couple of them, in an extremely friendly way.
This place was big and confusing. One of everything was there. The drinks were strong so observing all the types was quite entertaining. The only problem was this one elderly woman. Imagine the makeup of Lucille Ball, long polished nails, looking like old money, all alone, with a I don't want to say unattractive but definitely not up there and very masculine face. She was definitely sporting a wig..not the best quality but it meshed well with her overall look. We decided..had to be a man. But wait! No adams apple. Now I was confused as was my companions. She/He was a tough one that none of us could figure out.
At this point a woman came out to dance on stage. She was full of energy and great with the crowd. My amigo next to me stated that he knew if he was ever straight, she would be the woman he would want. I agreed. She had a great ass, an amazing body and could dance. Stoked that I agreed with him, he gave me a dollar (everything is a dollar in WeHo. They really need to think about getting a union because they are seriously underpaid). I went up and tried to put the bill in her bikini but she took it out and placed it in between my boobs. Then proceeded to move seductively and lick and remove my dollar bill. She ended it with a soft kiss. How about that! For a dollar?? See what I mean! The crowd loved her and you could tell by watching her, she loved them. She had a line of men, straight/not/twisted/in wheelchairs, girls, straight/not/twisted/no wheelchairs, waiting in line to give her a dollar. I wish when I sweat it looked as hot as it did on her. She was phenomenal. I said to my friend, "Man, I wish I had her body". All the men around me agreed for a variety of reasons. The pervies..imagined she and I getting it on. They assumed that's what I meant. The ladies knew I meant I literally wanted a body like hers and the gay men knew there was just so much to lust after. You have to respect that kind of sex appeal.
Getting On The Stripper Pole
The night finished with dancing, drinks and me stopping myself from getting up on stage on one of those poles. Restraint. Usually not one of my strong characteristics. It was a wonderful birthday celebration and it was only Friday. I still had Saturday night with the girls. You will have to wait on that. I have to get a few grown up things done but I will be back. I am including a pic of a hot singer Franky Perez, who I have been following for years. Inspiring voice. I have added him to my list of men I would sleep with who could get my name wrong and I would still be okay with it.