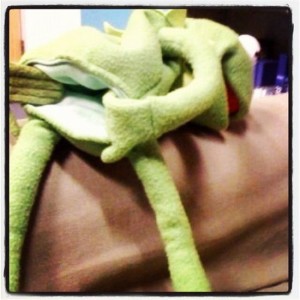 One night (drinking) I was hanging with a gf..drinking some tequila(Jose' I'm broke so the shitty stuff but tolerable in a one up kind of situation) we decided to go on Plenty of Fish and make a post. Not a usual post but a "Two For One Blue Plate Special". IT WAS AWESOME! We posted pics of us in badass clothes, whipping each other, wearing trashy clothes. We then filled in the fun stuff. What are you looking for? A babysitter so that we can go and party on the weekends. Someone who cooks and cleans and likes to call us master. We loved tattoos, satanic rituals, having sex in public places, men on their knees and who never asked questions. We then, on another page posted,"Two Single Moms..Looking For Mr. Right in a Mr.Wrong world". (that's my book title if I ever decide to go with Plan C). We put pics of us cleaning, smiling, cooking. We said we needed a place to live, liked bingo and long walks and rainbows. This is what I have to say.
By the next morning, the naughty post had over 500 hits (and I AM NOT lying!), the other…three. The responses were hysterical! The best ever. One guy offered to provide us with a place to live and give us an allowance but on the other side of the coin? Holy Crap! The responses were neverending..so many! It really provided us with so much entertainment. We eventually took it down. Being women..mildly intelligent women..we looked at the original posts. You know what we saw? Every guy that responded to the bitchy whores we put out there, on their page, stated they were looking for the "right" woman. The mother to their "future" children..not the guy who would babysit while we went on tour with a rockband we met on the weekend. WTF? Every one of them? On the other side of the coin…have you ever seen a pic of a man able to "take care of his own business" by himself? Well..I have!
My Point? My point is this. I may say shit that sounds crazy or unacceptable..but for me it's true. No matter what at some point reality will come out and you might be the guy going,"WTF happened to the girl I was dating?". I'd rather be uncomfortable but honest. A BC of mine once said.."I don't believe in monogamous relationships". I may not have agreed necessarily but it was straight and you gotta respect that. It takes some balls to put that shit out there right away. I like/liked/still like…LOL..he serves well
This is my BS I tell myself.. You can't make someone feel something they don't. You can't make someone like you. you can't look and see who you think they can be because then you aren't really seeing them. You can just  think look and see if it works for you..that day..that time..that whatever..
Most women..I think..go out with assholes because we have so much low self esteem we sub-consciously think we deserve it. At some point (I hope!) they see that they deserve a great guy.  A nice guy (or girl) and see it and embrace it (along with toys, some role-playing..anything with costumes). They get to experience what they deserve. All women deserve that. I wish they could all get to that point….cause let me tell you….
There ain't nothing better..than coming to a point in time..where you are with a man…feeling secure..knowing he is happy..and putting YOUR hand on HIS head and pushing him down!
I mean…I'm just saying…That shit should go both ways..don't you think?
What is left? Other than my glass that needs refilling AGAIN! There goes that "half" bottle. You see a full bottle, I see half…same difference. The deciding factor? My beautiful, sexy, intellectually stimulating girlfriend (yes, I meant to spell it that way!) brought me.. pepper jack! Yes..Pepper Jack! I am so appreciative and so thankful! I am going to give her a big boobie rub hug next time I see her! I wouldn't be here, (okay..yes I would) right now, writing this blog (totally true!) and in the positive state of mind (definitely!) if it wasn't for her..dropping off those three packs she found at the .99 cent store. It's not about the price either..she knows that there are only a few I like..The Kraft from there, the Tillamook and Stater Bros. brand. She knows! I LOVE her! Gracias .mi amiga! (her hubby is pretty cool too!)
Naughty Nancy At The Loft
Anyways! Great Night at the Loft after Hours in LA! Fabulous! Crowd loved my shit! Hysterical comedians! Sold out! I looked around, figuring out first dates and what not and kept lingering (I love that word! It's impossible for it not to sound hot! I was lingering over my gas bill..SEE!) over Naughty Nancy (XOX) and her viewpoint regarding online dating. Online dating? Yes. Yuck! I can only speak for myself and I can totally respect that Match.com has introduced some incredibly happy couples but you know what? When it starts out a fairytale kind of story, it seems to feel like a fairy tale kind of story and then reality kicks in. It's just easier to put out whatever you want, even if it's bullshit. Okay..case in point..we all know when I get bored and have a few drinks, I tend to amuse myself (not always with battery operated toys). I have checked these sites out..checked out the profiles..looked at the pics. They all want relationships. They all want someone to listen, to care, to cuddle with.. Sorry..I just threw up in my own throat. They all want that special someone.
Loving You With Lots of Tongue! XO