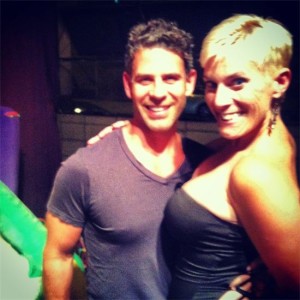 This is my review of this book. Now please understand you do not have to agree with me, it is only my opinion. I am glad I waited a few days. My "hotter than hell" cousin came over to visit (before he goes back to NY BOOO!) and asked me about the book. I gave him my perspective and in comparison used what is in my mind the closest, The Secretary. He had never seen it (OMG!), luckily I just happen to own it and there we went! I am so glad I did because I can't believe how many similarities I found, only simmered down.
S&M People Will Call This Fluff
Let's start with the obvious, both named Mr. Grey. Seriously! I explained to "HTH" that I felt that The Secretary was more realistic of true S&M and that Shades of Grey was like the Pretty Woman version. Rich, hot guy, misunderstood by everyone, except for her. I imagine genuine S&M people will call this fluff, kind of like what the hookers called Pretty Woman. I mean there really wasn't hardly anything in the first book other than a few hard spankings. That's it. I am afraid there is going to be women out there saying there are into it, putting it out there and finding themselves hogtied in some strangers bed thinking, "This did NOT happen in the book!". I mean PLEASE! She was a virgin and orgasmed (sometimes multiple) every single time! NO WAY! and if YES WAY, you were a better version of Mother Theresa in a past life or something because that is amazing. On top of that, she gives a kickass blowjob and swallows the shit right down. I just don't see how you can do that. I suppose if she had hit Daytona Beach on a few spring breaks, got hooked on the funnel, but she never drank. I cal BULLSHIT. Take away his money and imagine everything else. He shows up at places when you never told him where you were going. He knows where you live. Stalker! Crazy person! For Sure! Throw in both of their jealousy issues, we are talking a dysfunction that meds could not treat. She is so pessimistic and negative about herself.
No Gifts Sir – Now Whip Me
She didn't want expensive gifts because it made her feel like a prostitute? Hello! You are calling him Sir and letting him whip your ass? Bullshit! Again. He tells her after seeing her what? twice? He can't stop thinking about her. A millionaire..Don't forget about the burns and bad childhood. We have to have that for sympathy. In every tv show with 2 guys, one always got injured and every girl wanted to take care of him, love him. Yet, give him the strength and power to control you. In real life..red flag.
Did I like the book? Yes. Will I read the next two? Yes. Why? Because she does a great job with the details. She is specific and able to help you imagine the seduction inch by inch (btw. Men please take notes!) and because it IS a fairytale and frankly..there hasn't been any really great ones since Notebook. Before that, Titanic. We all need something to fantasize about. Someone to daydream about at the grocery store, when the kids are complaining, during sex with your husband..whatever. As women we are much more empowered than we used to be. We all want to do it, just don't want to be the first one to say so. I think women will be more comfortable buying toys, experimenting, going outside the box and letting men know what they like. That is all good. I get the appeal of a good mindfuck but do I think this is..no. I think alot of women do exactly what is said in this book. Now they can talk about it. I believe anything that can make your sexlife hotter and help you discover what makes you happy is worth a shot. You are the only one who will know.
Research Before Diving Into S&M
I think if you truly want to delve into the world of S&M, do more research. This book is no where near enough. Like I said, I believe The Secretary to be more real but after seeing it so many times, I still can't figure out the symbolism of the worm. Why does that shift everything? What does it represent? You see the dominance. You see the submissive and it isn't just physical. It's psychological and that, I think, is more of the core. I think both are sexually arousing but I don't think everyone will agree. I think 50 Shades of Grey is the Harlequin of the 2000′s. We are not the women we used to be.
I was going to talk more about the similarities between the two movies but now that I am writing this, I don't want to. I don't want to take away any of the fantasy from the book. Alot of us need that. If you want to watch the movie you can. Maybe you will agree, maybe you won't, but I will tell you this…
The next time I see an incredibly hot guy, I am going to bite my lower lip and HOPE that he will fall apart, grab me, throw me down and turn me 50 Shades of Grey.
Not sure what I meant by that but it sounded really hot!
A couple more hot pics .. warm up those boys!